Free Holistic Self-Care Classes
Sponsored by The Rondout Valley Holistic Health Community
Held at Marbletown Community Center | 1st Thursday Monthly | 7-8:30pm
Within the Rondout Valley Holistic Health Community, healthcare takes body, mind, emotions, and spirit into account. As health issues are addressed, individuals play an active and responsible role in the healing process. To help community members learn how to help themselves, we offer a series of monthly classes in holistic self-care. Your body knows how to heal itself when given the proper support. Come and learn a variety of methods to support your own well-being.
Join us Thursday, February 1st for
Tea: A Tasting & Healing Art
with Corinne Trang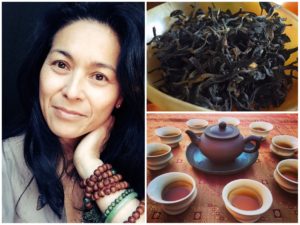 Discover the health benefits of tea and how you can incorporate this ancient beverage into a healthy lifestyle. Come taste different types of teas in their natural state, and experience cha qi (the wisdom and energy of the tea) through multiple infusions.
In this workshop, you will discover tea in the way it was meant to be enjoyed. Originating in China, tea has been cultivated for thousands of years for its medicinal qualities. Full of antioxidants, it has been recognized in the West for its ability to help maintain good health. While green tea is often suggested to help fight cancer, all teas have the ability to help with many health conditions including diabetes, weight loss, digestion, anxiety, heart disease, and more. When tea is prepared using the centuries old Gong Fu method with quality whole leaf teas, the body and mind start to feel a difference immediately.
Tea has also been recognized as helpful in maintaining concentration. An ancient Daoist practice, Cha Dao, or The Way of Tea, goes back thousands of years. The Chinese word for tea, cha, is written as a single character in 3 parts. From top to bottom, you notice the characters for "plant," "person," and "wood," respectively. The meaning for cha, or tea, can therefore be interpreted as that which roots and promotes balance within us.
Corinne Trang is an award-winning author, frequent television and radio guest, and educator. She is also a certified holistic health and nutrition counselor, her approach deeply rooted in eastern food philosophies and practices including Indian Ayurveda, the Chinese hot and cold food system, tea therapies, and other healing modalities. As the founder and owner of Liquid Gold Tea, she sources top quality leaves directly from farmers, teaches tea education and consulting, offers tea meditations, and creates custom tea tasting events, workshops and retreats.
For more information please visit: www.corinnetrang.com, www.liquidgoldtea.com, http://amzn.to/pev7hE