Did you miss one of our events? You can watch the recorded video here!
SUBSCRIBE to our YouTube Channel for updates!
The Holistic Health Community continues to offer online and telephone opportunities for practitioners to work with our clients and for our self-care classes and events whenever possible. Please join our mailing list and check back frequently for announcements.
---
Herbal Self-Care for Immune Strength & Resilience with Hillary Thing
Sponsored by the Holistic Health Community in collaboration with the Morty and Gloria Wolosoff Foundation
Plants are our natural allies for keeping the immune system strong and body resilient. Many health problems arise as a result of depletion and a disordered or sub-optimal immune response to infections and toxins. This class will provide easy-to-implement ideas for preventing infection, building resilience against microbial disease, and strategies for re-building the body's strength following infections such as Lyme, viruses, and other stubborn infections.
In this workshop we'll explore topics such as:
How to support your immune system throughout the changing seasons;
Specific herbs for preventing viral infection (including Covid), Lyme disease, yeast, and other bacterial infections;
How and why to utilize herbs throughout the treatment of any type of infection for shorter recovery time and to prevent recurrence;
How to use herbs to support recovery from an infection to re-build strength and emerge stronger than before!
This class will provide recipes, resources, and time for Q & A.

Hillary Thing, LAc. has over 20 years of clinical experience in the natural treatment of Lyme, auto-immunity, and chronic illness. She is Founder of the Nourishing Life Health Center in Kingston, NY and trains health professionals in her approach towards the holistic treatment of complex chronic disease through the Holistic Lyme Practitioner Mentorship. Hillary educates and empowers people worldwide via www.uprootinglyme.com, where her unique line of botanical medicines are also available.
---
Immune Boosting Class with Holly Shelowitz
Sponsored by the Holistic Health Community in collaboration with The Morty and Gloria Wolosoff Foundation. Recorded on Thursday, June 10, 2021, 4:00 - 5:30 pm.
Join Holly Shelowitz, Culinary Nutrition Counselor, for a cook along cooking class on Zoom. Together, we will chop, slice and stir up a delicious meal with immune boosting ingredients to support your wonderful body and build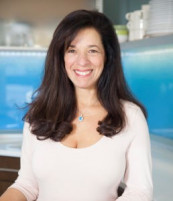 immunity. Including immune boosting foods in your daily diet has always been important, and especially now. On the menu is: Sautéed Greens and Mushrooms Cauliflower Steaks Click here for the list of ingredients and recipe. Holly is looking forward to cooking with all of you! Holly Shelowitz is a Culinary Nutrition Counselor and Real Food Educator. She graduated in 2000 from The Institute for Integrative Nutrition's Professional Training Program in Manhattan. Since 1999 through her client sessions, cooking classes and educational events, Holly has been inspiring people to eat their greens and get into their kitchens and cook. She leads Workplace Wellness Workshops and is a keynote speaker throughout the tri state area, educating on site in corporations, educational institutions and community organizations. In 2010, Holly was hired by Whole Foods Market as the Northeast Regional Nutrition Educator, and created the Healthy Eating Education Program at Mother Earth's Stores. Holly has taught nutrition and cooking classes at The Natural Gourmet Institute for Food and Health In Manhattan, The Bronx Botanical Gardens, and at numerous farmers markets, culinary stores, libraries, colleges and schools.
---
Intro to Spiritual Herbalism: Understanding the Elements and Connecting with the Spirits of Nature with Suanny Upegui
Plants as Medicine: Diversity Initiative through the Holistic Health Community in collaboration with the Morty & Gloria Wolosoff Foundation. A FREE WEBINAR Recorded Sunday, May 30th, 2021, 4:30 PM - 6 PM via Zoom
Join us to explore and understand the spirit realm of plant medicine and how to be in relationship with their intelligence for healing. We will also share ways you can connect with the spirits of nature and understand the elements to help us identify easy ways to support people in their healing journey. Please bring an herb, flower or root that you've been enjoying and make yourself a tea for the class!

INSTRUCTOR: Suanny Upegui is the Founder of Casa Finca, a Community Organizer, and a Psycho-Spiritual & Shamanic Medicine Guide. She was born in Choco, Colombia, raised in the mountains of Medellin, and in the Amazon, and moved to the US at age 12 away from civil war. As an Afro-Colombian/Indigena in a foreign country it became important to go deep into her own remembering and embodiment. She was brought-up with plant medicine in the forefront of our healing ways. Because of this, her ancestors made it clear that her path is to share the wisdom of nature and curate magical experiences to cultivate and support the healing of our individual and collective consciousness wherever possible. Suanny works closely with indigenous communities of the Amazonian Jungle, Colombian Sierra Nevada and Local Elders of the Northeast in NY. Her goal is to support in any way possible the needs of the jungle, the Earth, ancestral traditions and our elders' wisdom to be passed on to the new generations in honoring and respecting the people that came here before us. You can find her in ceremony with the land, trees, mountains, plants, the elements and the spirits of the plant world to understand the nature inside and out of us. This connection to the spirit world helps and keeps cultivating her to understand all the gifts and love all living beings have to give us and the fact that all around us is activated and eager to help us. More about her work can be found at http://www.casafincanyc.com/
---
SACRED GEOMETRY: Patterns of Number and Nature with Janus Welton

Saturday, March 20, 2021. Sponsored by the Holistic Health Community in collaboration with The Morty and Gloria Wolosoff Foundation
What do Art, Architecture, Nature, Animals, the Human Body, Gods and Goddesses, Numbers, Shapes, Colors, Light, Form, and all Creation have in common? All life forms at every scale are based on reoccurring geometric patterns and mathematical relationships. Every natural pattern of growth or movement in the universe conforms inevitably to one or more simple geometric archetypes and mathematical truths. These patterns inform the DNA of all living things and constitute, in fact, the building blocks of all creation. Geometry, most essentially, expresses number as perception and connects the One and the Many. The essential universal pattern is Wholeness. The whole is present in each part. We are each united to the entire world because all that is in the world is also within each one of us.
View and/or download the PowerPoint from this event. (NOTE: this is a very large file, give it time to load)
Click here for Photo Credits
---
The Touchless Touch Of Plant Spirit Medicine with Eliot Cowan
Saturday, January 16, 2021, Sponsored by the Holistic Health Community in collaboration with The Morty and Gloria Wolosoff Foundation
The plants in your neighborhood can touch your spirit without your touching them. Surprisingly, after their touchless touch you could find yourself better connected with your self, with others, and with the natural world. Wonderful improvements in health can show up as side effects of a life lived in connection. If I were to treat you with Plant Spirit Medicine I would invite my plant allies to send their medicine through my hands, which I would gently place on your back and upper chest.
In this program I plan to tell you Plant Spirit Medicine stories, because, after all, who doesn't like to hear a good story? I'm hoping the plant spirits will share a bit of their medicine with you. I hope the stories will touch your heart.
Also, it would be wonderful if you would ask questions and we could converse.
I'm looking forward to a rich afternoon with you.
---
Food as Medicine with Dina Falconi
Wednesday, December 9, 2020
Let's explore optimal food choices for supporting our health. What does blood sugar stability have to do with our well-being? How do carbohydrates fit in? What is a low carb or keto lifestyle? What are nutrient dense foods and what role do they play in a healthy menu? This and more will be part of our conversation!
Dina Falconi is a clinical herbalist with a strong focus on food activism and nutritional healing. An avid gardener, wildcrafter, and permaculturist, Dina has been teaching classes about the use of herbs for food, medicine, and personal care for more than thirty years. She just launched her online masterclass "In The Wild Kitchen with Dina Falconi". She is the author of Foraging & Feasting: A Field Guide and Wild Food Cookbook and Earthly Bodies & Heavenly Hair: Natural and Healthy Personal Care for Everybody. Check her sites: https://www.inthewild.kitchen www.botanicalartspress.com
---
AKANTU
Means earth mind, earth consciousness, earth being from the ancient future now.
a conversation with Tiokasin Ghosthorse, Sunday, November 22, 2020.
---
Dr. Ken Harris
Synchronicity THE MAGIC – THE MYSTERY – THE MEANING, a book talk with Dr. Harris
June 17, 2020
---
Jerry Wintrob
Visual Strain in the Days of All-Zoom
April 14, 2020
---
Shulamit Elson
March 3, 2019
---
Mark Newkirk
Marc Newkirk spent four decades at the fore-front of science and technology. Educated as a Materials Engineer at Brown University, he is a prolific inventor, named on more than a hundred U.S. and nine hundred foreign issued patents. His current focus is on the creation and commercialization of technologies that illustrate the nexus between consciousness and what we perceive to be physical reality. He is currently President of The Lightfield Foundation, a 501(c)3 charitable organization, with the purpose of developing scientific understanding regarding the relationships between consciousness, energy, matter and the structure of the Universe, and creating and bringing into active use technologies which elevate human consciousness and human potentials. The following are videos of talks he gave at the Holistic Health Community: