MIND SALAD, a workshop with Doug Motel
MIND SALAD, a workshop with Doug Motel is sponsored by the Rondout Valley Holistic Health Community in collaboration with the Morty and Gloria Wolosoff Foundation.
Saturday, June 15, 1:00-5:00 at the Marbletown Community Center
Have you been listening to the "mind chatter" so much lately that it is blocking you from moving forward in work and relationships? Is it all feeling soooooo serious lately? Then join storyteller and coach Doug Motel in this live, personal growth event that will give you a new sense of power and effectiveness for visualizing, creating and attracting the next steps in your life while keeping a sense of humor. The 4-hour workshop consists of a performance of Doug's highly acclaimed solo-play MIND SALAD followed by interactive writing and drawing exercises, paired sharing, improvisation games, meditation and experiential exercises all in a lively and fun-filled environment.
Part I: The Performance
"Channeled through writer-performer Doug Motel's quick mind and extraordinary characterizations."
L.A. Weekly Award Nom.
Best Solo Performance
Pick Of The Week
L.A. WEEKLY
"At once uproariously funny and poignant"
-VARIETY
"Motel's art is portraiture, and his likenesses are often startling, vocally and visually…A delight."
– LOS ANGELES TIMES
Mind Salad is the story of Mick Calendar a struggling London screenwriter who moves to Hollywood in the hope of escaping from the constantly jabbering critic who lives in his mind.
Through this funny and moving solo play, Mick relives for us the horror of how the ego can drag people from one obsession to the next to find relief from the chatter of a noisy brain.
At turns hilarious and even frightening, Mind Salad is a tour-de-force where Doug plays over a dozen characters, many times switching back and forth with lightning speed as they argue with each other.
Part II: The Mind Salad Workshop
Our most inspired ideas and healing come when we are "in the moment," but how do we access and utilize the power of the present?
After Doug's performance, participants will have first-hand experience – as a group and individually – of the very source of their creativity.
The workshop consists of lecture, storytelling, writing and drawing exercises, paired sharing, improvisation games, chanting & singing, guided visualization and experiential exercises all in a lively and fun-filled environment.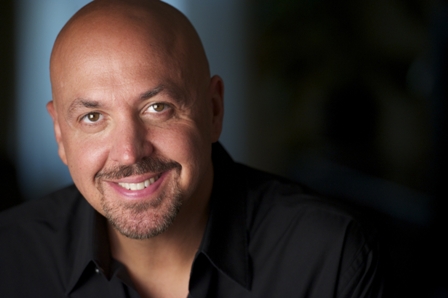 Doug Motel
Doug is the author of several solo plays including MICK IN AMERICA, MIND SALAD (L.A. Weekly award nomination for writing and performing) and SHIVA ARMS (winner L.A. Weekly award for writing and performing and winner Theatre LA Ovation award for Best Writing of a World Premier play) and StarDUST (Adventures in Consciousness). Films and TV credits include: THE WAITING GAME, (winner San Diego International Film Festival: Audience Award, Best Independent Feature) as the evil Russian villain on THE TICK (FOX). NATIONAL LAMPOON'S ATTACK OF THE 5'2? WOMEN (Showtime), SWEET VALLEY HIGH (Fox), LOVE STREET (Showtime) and more.